The Covid-19 ContacTUM Initiative
The SARS-CoV-2 pandemic has already claimed many lives worldwide and paralyzes public and economic life in many countries. Unfortunately, even though research is being carried out at an unprecedented level to develop an antiviral treatment for COVID-19 and a vaccine against SARS-CoV-2, these are not to be expected soon.
Until effective treatment options are available, we need to use non-medical measures to fight the epidemic. To tackle the current pandemic, an interdisciplinary consortium - ContacTUM - has formed at the Technical University of Munich aiming at three goals: developing a reliable medical self-test, designing a secure and privacy preserving contact tracing app, and understanding better the spread of the virus by modeling the epidemic.
The initiative started in mid-March 2020, literally on the first day of the Government's corona lockdown, when the SFB1258 scientists around Elisa Resconi asked themselves what they could do to help fight the emerging corona pandemic. They started developing the concept for a Digital Contact Tracing Service (DCTS), an application that now is commonly referred to as "Corona App".
Contact tracing that ensures privacy by design
The prime concern of the team was that the app ensures by design the maximum data security and privacy because they anticipated that the efficacy such an app could achieve would primarily depend on the people's trust and acceptance in the tool. Thus, they focused on a Bluetooth-based contact tracing system, that performs the matching between users who have the disease and their contacts on the non-infected users' phones. This approach is known as the "decentralised" as opposed to the centralised, where the match is done on a central server.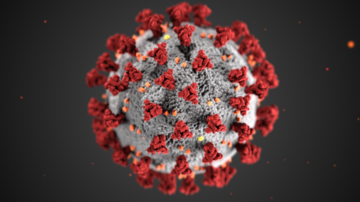 Simulating the effect of mitigation measures with epidemiological methods
A second activity developed around setting up an epidemiological model for simulating the effect of the app and other non-pharmaceutical mitigation measures with Monte Carlo methods, and a third to develop a rapid and reliable medical self-test. To achieve these goals, an interdisciplinary group of scientists from the SFB1258, the TUM Faculties of Mathematics, Physics and Computer Science and the TUM Schools of Medicine and Governance formed under the name of ContacTUM Consortium.
For the DCTS app, a collaboration with ITO evolved, a group of German professionals that joined to develop an open source contact tracing system. The ContacTUM team also got a member of the international TCN coalition, a community of technologists supporting privacy-preserving exposure notification apps during the Covid-19 pandemic.
medRxiv, Sep 2020
DOI: 10.1101/2020.09.13.201926
arXiv:2006.16960, June 2020
Kilian Holzapfel on the German Corona app
Kilian Holzapfel from the ContacTUM Initiative was interviewed on BR Rundschau on 16 June 2020. (Video: BR Rundschau)